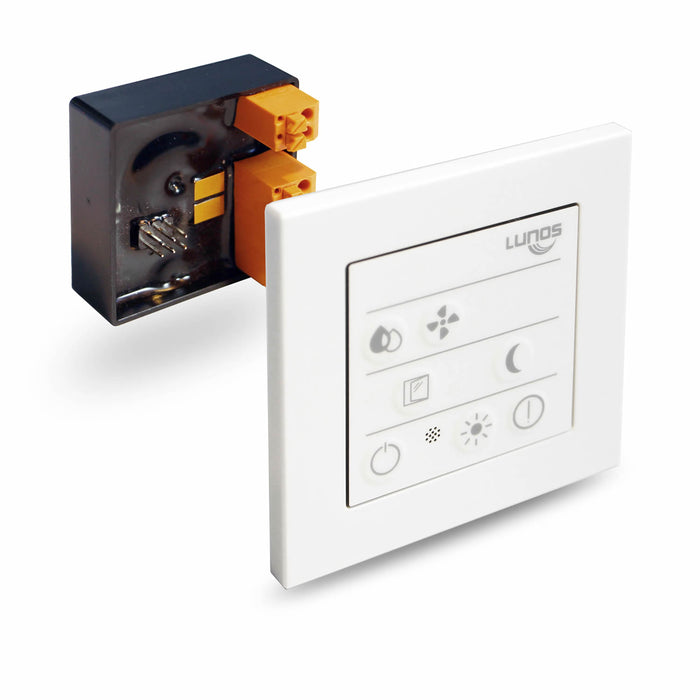 The Smart Comfort controls your ventilation intelligently and reliably
Lunos Smart Comfort 5/SC-FT Control - Gesture Control for HVR units: e² series, ego, Nexxt, Silvento ec and RA 15-60.
The Smart Comfort Control is particularly easy to operate. The different ventilation modes can now be set directly at the touch of a button. This includes, of course, the humidity/temperature mode recommended for continuous operation. In this ventilation mode, the ventilation system works particularly efficiently and keeps the room climate at an optimum level.
Functions
Humidity-sensitive automatic mode
In addition to manual operation with four ventilation stages, the integrated humidity and temperature sensors also make it possible to activate a humidity-sensitive automatic mode comprising eight stages.
Special feature
As a special feature, the Smart Comfort can also be used to set day and season dependent modes such as night-time reduction, summer mode or intensive ventilation. In this way, fresh air and a healthy room climate, as well as energy-saving ventilation, can be ensured.
Installation
The installation is possible both in the living and sleeping rooms, as well as in rooms with high humidity such as the bathroom.
Operation
The Smart Comfort (operating element plus control unit) and an additional power supply unit (18, 60 or 100 watts) are required for operation.
Ventilation by one touch of the button
The Smart Comfort Control 5/SC-FT is an intelligent and automatic control which can ensure user independent ventilation following the requirements of DIN 1946-6.
In addition, the user has the possibility to operate the units manually and to activate comfort functions such as night-time reduction, summer mode or intensive ventilation.
Documents
---