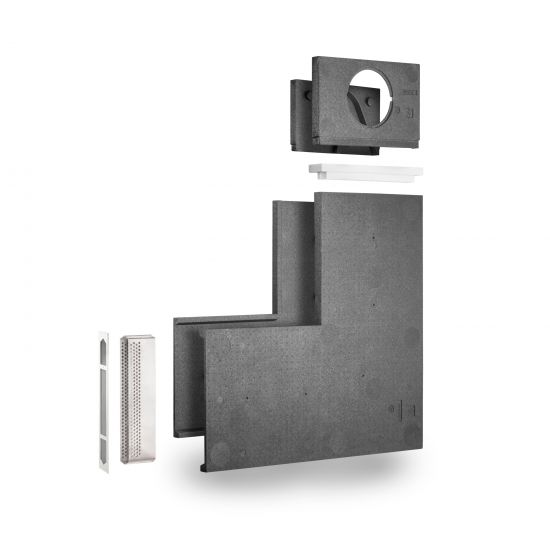 Lunos Facade element
Fan grilles on the outside wall are often considered as a disturbing element. By using the LUNOtherm-S facade element, the supply vent disappears from the wall surface. Further development of the LUNOtherm-S has made unrestricted facade design possible, a smooth façade that is only interrupted by the windows.
Advantages
The LUNOtherm-S has all benefits of air transfer devices, such as:
High air throughput
Draught-free design
Hygiene and sound insulation
can be made a reality in conjunction with an almost invisible outer appearance.
Technical characteristics
The LUNOtherm-S is integrated into the insulation layer of the heat composite insulation system as a final element of the ALD. Supply air is then located in the window lintel, the reveal or underneath the window. It can be mounted above, to the side of the window or underneath the window, which also enables combination with a rolling shutter box.
The LUNOtherm-S is applied by the builder in the same way as an insulation plate of external insulation. Please request the detailed assembly instructions.
Since the LUNOtherm-S is mounted in the flashover range, suitability has been tested within the scope of general constructional admissibility of DIBt. LUNOtherm-S may be mounted in non-combustible WDVS pursuant of Class A1 or A2 according to DIN EN 13501-1 of insulations thickness 60mm. With other insulation thickness, LUNOtherm-S can be over or under insulated.
The LUNOtherm-S can also be fitted easily into the masonry for new constructions. The bricks are appropriately recessed.
On account of the very low heat conductivity of the dam core of LUNOtherm-S of = 0.030 W/mK, the reduction of the heating insulation layer in the area of the ventilation gap is compensated. The temperature difference on the façade is max. 2.5 K. 
---