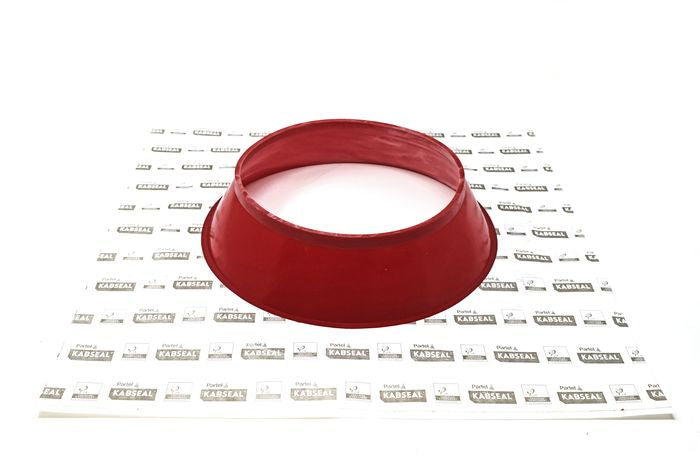 Heat-Resistant Sealing Grommet For Pipes
The KABSEAL HEAT is a heat-resistant sealing grommet for pipes, specially designed for internal and external use. This high-performance grommet is perfect for sealing openings such as exhaust pipes that demand temperature-resistant materials. With its ability to withstand temperatures up to 250°C, KABSEAL HEAT is the optimal solution for various applications where durability and heat resistance are required. 
Why Partel KABSEAL HEAT
Manufactured from a permanently flexible rubber that can endure temperatures up to 250°C

 

Extremely flexible conical grommet that compensates for structural movement

 

Superior adhesion and damp climate resistance

 

Precise and long-lasting sealing of heating pipes

 

Strong acrylic adhesive with excellent ageing resistance

 

Split release liner for efficient and effortless installation

 
Technical Data
Adhesive sleeve
Adhesive
Withstands a damp climate
Temperature resistance
–30° C (-22° F) to +100° C (212° F)
UV resistance
Very good—up to 6 months
Colour
White
Sealing grommet
Temperature resistance
–50° C (-58° F) to +200° C (392° F)
Short term to +250° C
 
UV resistance
Very good
 
Colour
Red
Processing temperature
 
+5 °C to +40 °C

Application
This grommet is designed for sealing pipes in the building envelope and boasts excellent outdoor exposure. 
Tested for exhaust systems in accordance with DIN 14241-1 and DIN 13216-1 
Suitable for:
Internal and external use

 

Partel membranes, including vapor control layers and breathable membranes

 

Airtight sealing in accordance with Part L & DIN 4108-7

 

Airtight and thermal-bridge-free electrical installations as per DIN 18015-5

 
Dimensions
KABSEAL HEAT 150-165
Diameter: 150-165 mm
Adhesive sleeve: 350 x 350 mm

KABSEAL HEAT 180-195
Diameter: 180-195 mm
Adhesive sleeve: 400 x 400 mm

KABSEAL HEAT 200-220
Diameter: 200-220 mm
Adhesive sleeve: 400 x 400 mm

Documents
---