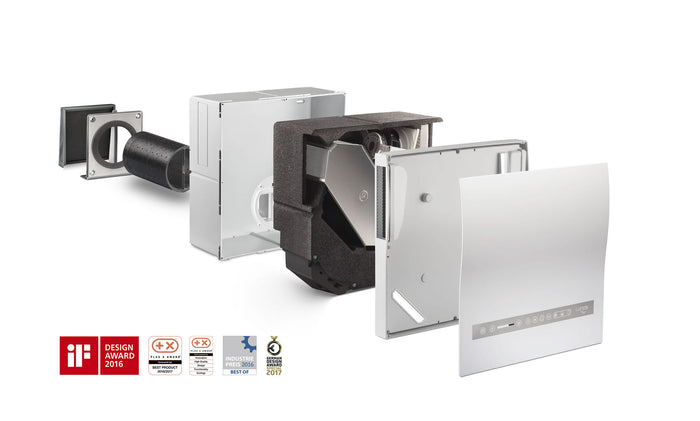 The evolution in decentralised ventilation
The Lunos Nexxt is a decentralized HRV unit achieving a heat recovery rate of up to 90%. It is specially designed for larger spaces, not only homes but commercial spaces such as schools, offices, hotels and hospitals.
Heat transfer is made via a cross-flow heat exchanger or optionally via a cross-counterflow heat exchanger. Power input commences as of 5 Watts and volume flows of over 90 m³/h can be generated.
As standard, the Nexxt introduces a new operating concept: controlled via humidity or temperature sensors.
Advantages
Low noise level thanks to ec technology
The radial ec motors of the Nexxt are convincing all along the line. Nestled in a flow-optimised EPP chassis, the ec motors, which are already very quiet, are virtually "silenced". Thereby, the Nexxt is currently one of the quietest units in its class.
The intelligent design achieves a standard sound level difference of 54 dB, making the Nexxt even suitable for use in the vicinity of airports.
Thanks to its very low power consumption, the Nexxt is very energy-efficient, thus making an active contribution to environmental protection. The highly efficient ec technology enables low power consumption.
Heat recovery & control technology
The key component of the Nexxt is the built-in device with heat exchanger:
NXT-E: The enthalpy heat exchanger achieves heat recovery levels of up to 85 %. 73 % according to EN 13141-8 at 75 m³/h (reference volume flow).
The integrated control provides for perfect interaction. Equipped with humidity-temperature sensors, even the standard version of the automatic control ensures efficient ventilation with humidity protection. Optional sensors such as, for example, the CO2 sensor can be integrated or connected by the EnOcean wireless technology.
The Nexxt adds the waveform to the current design language of LUNOS products while maintaining its basic principles and recognition value. With an inner screen size of 510 x 510 mm, the fan thus remains a stylish element of home technology. The front screen also contains the plainly designed control panel. The total depth of 240 mm can be lowered up to 67 mm into the outer wall.
By using the 160 LUNOS standard wall-tube as wall duct, the Nexxt is compatible with the fans of the 160 series. Only for the outer covering a two-way outer screen or outer hood must be used. In the surface-mounted version, it is particularly easy to replace a 160 fan by the Nexxt.
The Nexxt - housings can be used universally
Developed for the outer wall, the fan can be installed in the surface-mounted or flush-mounted version. The flush-mounted version requires a wall thickness of at least 240 mm and the installation housing has a stylish design frame which makes it also visually appealing. The 160 wall-tube is used for the outside passage.
Technical data
Average thermal efficiency level*

73%
Air Flow
15-110 m3/h
Power Consumption**
22 Watt
Power Voltage
200-240 V / 50/60 Hz
115 V / 60 Hz US Version
(available on request)
Sound Power Level**
40 dB(A)
Core Hole Drilling
162 mm
Minimum wall thickness (surface mounting/flush mounting)
110mm/280mm
Depth in Wall Installation
172 mm housing + 105 mm flap closure in wall duct
Cutout Installation Housing
min. 482 mm x 482 mm
Dimensions of the Unit
480 mm x 480 mm x 170 mm
Size if the Inner Screen
510 mm x 510 mm x 66 mm
Size of the Outer Hood
235 mm x 205 mm x 72 mm
Energy Efficiency Class
A
System includes:
Nexxt E (Flush)
1 LUNOS Nexxt NXT-E: Ventilation unit with heat recovery
1 LUNOS Wall-tubes for the series 160
1 LUNOS Two-way outer hood
1 LUNOS Nexxt Inner screen with operating element
1 LUNOS Nexxt Installation housing
Nexxt E (Surface)
1 LUNOS Nexxt NXT-E: Ventilation unit with heat recovery
1 LUNOS Wall-tubes for the series 160
1 LUNOS Two-way outer hood
1 LUNOS Nexxt Inner screen with operating element
1 LUNOS Nexxt Installation housing
1 LUNOS Nexxt Surface-mounting set
Documents
Partner
---